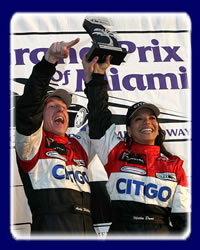 Milka has completed this year's Daytona Prototype class of the Rolex Series in the 24 Hours of Daytona, and she also will race in the 2008 IndyCar Series.
In her first full Rolex Series season, Milka won the Grand Prix of Miami at Homestead-Miami Speedway in February of 2004 - which made her the first woman in history to win overall a major international sportscar race in North America. She repeated that history-making win when she won at the same track seven months later - in September of 2004. During the 2005 season, Milka achieved her third career Rolex Series in at Mont-Tremblant, Canada.
Her Rolex Series achievements are remarkable, including three overall wins, seven podium appearances, 11 top-five finishes and 20 six top-ten finishes.

In her first race of the 2007 season, Milka scored a 2nd place finish in the legendary 24 Hours of Daytona, earning the highest finish ever by a female driver in the 45-year history of this famed race. circuit.
In the newly unified IndyCar Series, the team Dreyer & Reinbold Racing announced that it has signed Venezuelan driver Milka Duno to drive the #23 CITGO-sponsored Honda Dallara in select races for the 2008 IndyCar Series season.
Duno, who currently resides in Miami, Fla., made seven starts with the team SAMAX Motorsport in the Indy Series in 2007.
"We're excited to bring Milka on board," team co-owner Dennis Reinbold said. "We want to provide her with every opportunity we can to develop as a driver. Her great attitude and hunger for success, combined with her networking opportunities, should make for an exciting race season on and off the track. We are also very proud to welcome CITGO to our family of sponsors and look forward to working with them this season."
"I'm very pleased to get an opportunity with Dreyer and Reinbold to take the next step in my career," Duno said. "I felt comfortable with them right away in the first few meetings. I think that working together with them will make me move forward. I also want to thank my sponsor CITGO for their continuing support."
In a limited season last year, Duno's best finish was 11th at the Texas Motor Speedway.
"I learned a lot last year with the team I was with, especially from my engineer, Steve Challis, and my spotter, Pancho Carter, but I still have many lessons to learn. I hope I learn everything I need to improve and become competitive. This is another step for me."
Duno's first on-track test with the team will take place in her backyard on February 27th at the Homestead-Miami Speedway followed by a test a week later at the Sebring International Raceway.
The test at Sebring will mark Duno's first time in an IndyCar Series machine on a road course.
"We need to test a lot," Duno said, "but I'm excited about driving on a road course in these cars. We should have a lot of fun running the car at Sebring. I'm especially happy that almost all the time we spend on the track in the beginning of the season is in Florida where I live."
Outside of the race car, Duno is an accomplished scholar as she is a certified Naval Engineer and has earned four master's degrees – three of which she earned simultaneously.
In the end of March, she will be releasing a new children book, Go, Milka, Go! It features Duno as a cartoon character sharing the importance of education to children of all ages – a cause for which she is very passionate.
She will also make her big-screen debut on May 9th as a part of the Warner Bros. movie Speed Racer, where she will play the role of Kellie "Gearbox," fittingly, a race car driver.
The team Dreyer & Reinbold Racing based in Indianapolis, was formed in 2000 with Indianapolis businessman Dennis Reinbold and driver Robbie Buhl. Their debut outing saw the team win at the Walt Disney World Speedway. Since, the team has made 163 IndyCar Series starts. Among driver alumni for the team include co-owner Buhl and previous Indianapolis 500 Champions Al Unser Jr. and Buddy Lazier.
For additional information please click on the links below:
.:: 2010 IndyCar Schedule
.:: 2010 IndyCar TV Schedule
.:: 2010 IndyCar Radio Schedule