Details

Monday, 20 October 2014
Duno becomes first Hispanic female driver to lead a NASCAR national series race.
Los Angeles, Calif. – Milka Duno competed in her first NASCAR Camping World Truck Series (NCWTS) race at Talladega Superspeedway on Saturday, October 18, starting 36th and finishing 25th - with two laps led. By doing so, she became the first Hispanic female driver to lead a NASCAR national series race.
Duno had only one scheduled two-hour practice session to get acquainted and comfortable in a truck and a series that was entirely new to her. Unfortunately, what was already a steep learning curve was dramatically increased as Duno wasn't able to get out on the track until an hour and twenty minutes of the session had already expired. With only forty minutes remaining - when she did get on the track - the engine blew after completing only six laps.
There wasn't enough time to change engines before the start of the qualifying session so Duno was not able to qualify. As a result she was placed 36th on the starting grid for the 94-lap race.
Duno led two early race laps but running out of fuel on lap 59 put her many laps down. Ultimately Duno would finish her first NCWTS race 25th, eleven positions ahead of her starting position.
"Not at all what I had hoped for in my first truck race," said Duno. "Things were just going wrong from the very start – only six laps to prepare for my first truck race, a blown engine, no qualifying and then running out of gas during the race. I tried so hard to gain every position that I could but the truck simply did not have the speed. With so many obstacles thrown at us, I'll take the 25th place finish. Not happy about it – but with all that happened and still finishing 25th – I'll take it."
About Milka Duno
Duno has eight major race wins in the highest classes (Prototype) in the American Le Mans Series and the Grand American Rolex Series and the highest finish ever by a female driver (2nd place) in the 24 Hours at Daytona. When she won the Rolex Series Grand Prix of Miami she became the first woman in history to win a major international race in the USA. Duno was also the first Hispanic female driver, in the now 103-year history of the race, to qualify for and compete in the world famous Indianapolis 500.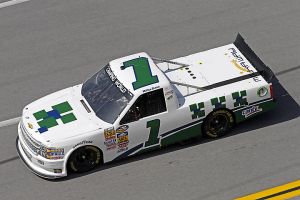 In making her transition to stock car racing and her ultimate entry into NASCAR Duno has been competing in the ARCA Racing Series (ARCA) for the past three seasons. In her first full ARCA season in 2013 Duno finished the season 7th in the driver point standings and became the 2nd highest finishing female driver in ARCA's history. She earned the pole at Talladega and led race laps at both Talladega and Daytona. Duno ended her 2013 ARCA season 3rd in most laps completed and 3rd in hard charger points.
Off the track Duno is a member of the Univision Deportes Network Formula One broadcast team as a commentator for their live F1 pre-race shows and live race broadcasts of all of the 2014 F1 races.
Duno also serves as a newly elected member of the 2014 Fédération Internationale de l'Automobile (FIA) Women & Motor Sport Commission. The FIA's most prominent role is in the licensing and arbitration of the Formula One and World Rally Championship series. The International Olympic Committee provisionally recognized the federation in 2011, and granted full recognition in 2013.
As certified Naval Engineer with four master's degrees – earning the last three simultaneously – Duno is a firm believer in the value of education and is working through her "Milka Way" program to inspire youth to "Aim for the Stars" and achieve academic excellence. Duno has taken this message to children, students, parents and teachers at all school levels all across the United States and around the world – including Venezuela, Malaysia, Canada, Japan, Peru, Colombia, Argentina, Chile, Guatemala, Mexico, and Puerto Rico. For more information on Milka Way, visit www.milkaway.com.
Milka's official website is available at www.milkaduno.com
Fans cans also logon to her official Facebook Fan Page at www.facebook.com/TheOfficialMilkaDunoFanPage
Duno can also be followed on Twitter @MilkaDuno