MILKA DUNO TO START INDYCAR SERIES WITH TWO KEYS
Duno Presented with Keys to Miami Beach and Miami-Dade County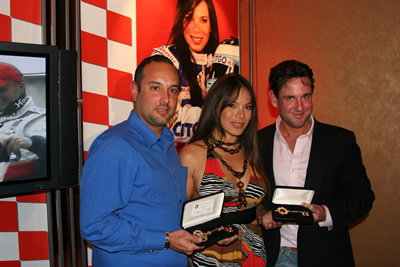 April 4, 2007, Los Angeles, CA - Milka Duno, the Indy Racing League's newest driver, was presented with two very special keys to "start" her 2007 season at an early evening press conference and celebration on March 23 surrounding her entry into the 2007 IndyCar Series and the 2007 Indy 500. Milka received honorary keys from both the City of Miami Beach and Miami-Dade County.

CITGO hosted a "Green Flag" celebration for their driver Duno at the Mandarin Oriental Hotel in Miami on Friday, March 23 - just hours after her official and historical announcement at Homestead-Miami Speedway. To signal the start of the celebration, Milka was presented the keys by Miami Beach by Commissioner Michael Gongora and Roly Marante, Chief of Staff representing Miami-Dade County.

"That was such a wonderful day for me for several reasons," said Milka. "Together with CITGO and my team SAMAX Motorsport we made a very special announcement at my home track of Homestead-Miami Speedway - then to the day off with the presentation of these two honorary keys In Miami - and the celebration that then followed - it was like living a dream come true. I am so very proud and thankful for the support of the fans in Miami - and to be recognized with these keys is such a very special honor. Miami is a truly great place to live - and a very exciting place to race - and I'm very happy that I get to live and race here!"

Milka strongly believes that the support and energy she receives from the people in Miami has proven over the years to be her very special good luck charm. The very next day - following the presentation and celebration, Milka and her team scored a 4th-place finish in the 2007 Grand Prix of Miami - and in 2004 she won both the Miami Grand Prix and the Homestead-Miami 250!

CITGO, based in Houston, is a refiner, transporter and marketer of transportation fuels, lubricants, petrochemicals, refined waxes, asphalt and other industrial products. The company is owned by PDV America, Inc., an indirect wholly owned subsidiary of Petróleos de Venezuela, S.A., the national oil company of the Bolivarian Republic of Venezuela. For more information on CITGO visit www.citgo.com.

For additional information on Milka please visit www.milkaduno.com. For more information on the IndyCar Series please log on to www.indycar.com.


____________________________