Go, Milka, Go!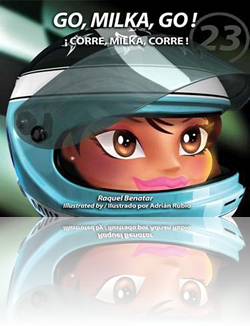 "Go, Milka, Go! The Life of Milka Duno"

Race car driver Milka Duno is a playful, studious, and mischievous child as she races and competes through the inspiring pages of her book, "Go, Milka, Go! - The Life of Milka Duno."

Milka shares her most tender early childhood memories, her desire to learn and achieve, and the dedication necessary to succeed, from the first school days in Caracas, Venezuela, to the competitions at the racing circuits around the world.

Through the story, young readers will be inspired by Milka's message: the value of education, the pleasure of competing and winning, and that team effort, determination, solidarity and generosity are the main ingredients to a successful life.

She demystifies "popularity" as it is understood today in schools; and above all, she supports hard work, discipline, perseverance and self-confidence as the path to fulfilling our dreams.

"Go, Milka, Go!" - was awarded the Best Young Adult Sports/Recreation Book of 2009 at the 11th Annual International Latino Book Awards. The ceremony, held in New York City on Thursday, May 28, 2009, took place during BookExpo America, the largest publishing event in North America. The prestigious International Latino Book Awards honor literary excellence within the Latino community in a variety of categories.