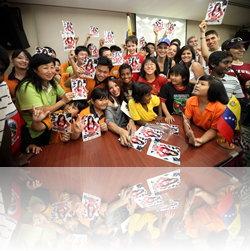 Started in 2004, the primary objective of the Milka Way program is to inspire and motivate children and young students to study hard in school or university, pursue every educational opportunity available to them, compete to win and strive for academic excellence.
In speaking to children and young students directly via the Milka Way visits, and through her book "Go, Milka, Go!" Duno gives insights and tells stories about her own life and her academic and professional goals and accomplishments as an example of what can be achieved with hard work and determination.


This personal interaction with children and young students has shown to be wonderfully effective and both inspires and motivates them in a direct and impactful way.
Milka Way visits have occurred at elementary schools, middle schools, high schools, junior colleges, colleges and universities. Each Milka Way visit is customized to the size and age level of the audience. Milka Way visits are also customized in conjunction with school officials' requests for specialized emphasis. They can also be customized for student specialties/groups – such as in the areas of science, math, engineering and technology.
Milka has also given motivational speeches for companies and institutions such as the United States Navy, Microsoft, IBM, Wal-Mart, Sony, AT&T, Johnson & Johnson, American Airlines, CANTV, General Electric, Banco Federal, Metro de Venezuela, Allison Transmission and Procter & Gamble - just to name a few. Audiences at each event were inspired by Milka's message that with the right preparation and positive attitude difficult goals can be achieved.