About Milka Way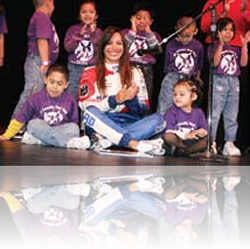 Milka Way – Aim for the Stars!

"I am very passionate about education and I want to do everything that I can to inspire young people to study hard and aim for the stars!".

In 2004, Milka launched her "Milka Way" program - whose mission it is to inspire children and students to "Aim for the Stars" and achieve academic excellence.

As qualified Naval Engineer with four master's degrees - in Organizational Development, Naval Architecture, Aquaculture and Maritime Business – earning the last three degrees simultaneously – Milka believes strongly in the value and importance of a strong academic background.

Milka has taken this message to children, students, parents and teachers at all school levels around the world – including her home country of Venezuela, Malaysia, Canada, Japan, Peru, Colombia, Argentina, Chile, Guatemala, Mexico, Puerto Rico and all across the United States.