About Milka Duno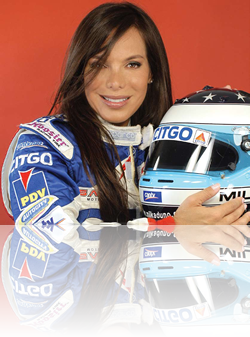 Talent, beauty, brains and competitiveness are just a few of the adjectives that can be used to describe race car driver Milka Duno - one of the most successful female race car drivers in the world today. Milka has competed in more types of race cars in more different racing series than any other current female driver – and has eight major motorsport wins to her credit.
When Milka won the Rolex Series Miami Grand Prix she became the first woman in history to win a major race in the USA. Milka also earned the highest finish ever by a female driver, 2nd place, in the 51-year history of the legendary 24 Hours of Daytona. And Milka was the first Latina, in the 101-year history of the race, to qualify for and compete in the world famous Indianapolis 500. These are just a few of her many historic and record-breaking achievements on the race track.
Milka became the first Venezuelan athlete to be inducted into the Latin American International Sports Hall of Fame at their 35th Anniversary Induction Ceremony in January, 2010.
In addition to being the most successful female sportscar racer in history, Milka is also a qualified Naval Engineer with four master's degrees - in Organizational Development, Naval Architecture, Aquaculture and Maritime Business – earning the last three degrees simultaneously.